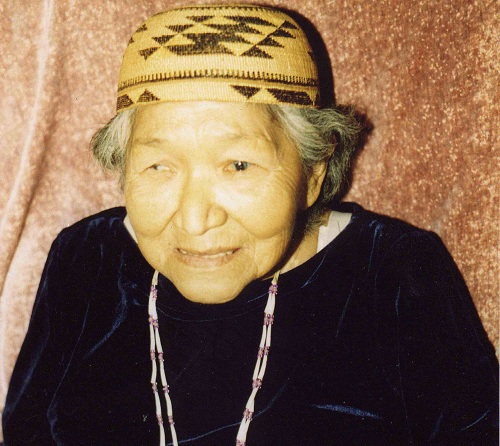 Auntie Vi passed away in her sleep as a result of a fire that destroyed her home on the evening of November 29, 2006 in Orleans California. She was born on her families Indian Allotment known as "Butlers Flat" on the Salmon River in Siskiyou County on December 3, 1917 and lived all her life along the Klamath and Salmon rivers, and kept a home for several years in Castella and Dunsmuir south of Mt. Shasta. She was a full-blooded member of the Karuk Tribe of California Her family was from the villages of Katimiin, Ike's and Amikiyaarem. Her Indian name was Vasihtínihich She was a fluent speaker, teacher and strong advocate of the Karuk language. She lived her life full of vim, vigor and vinegar, always young at heart.
She was preceded in death by Elvis, her Grandparents, Red Cap Jenny, Red Cap Johnny and Susie Charles, Parents Bob and Mary Johnny, husbands Leonard Super and Orel "Heem" Hillman, brothers Martin, Dave, Dan and Theodore Johnny, sisters Agness, Carolyn, and Hazel Johnny and nieces Hazel Wilder-Ward and Roselynd Norris-Tungate and special cousins Ramona Tripp-Starritt and Elizabeth Snapp. She is survived by her cousins Josephine Peters, Burl and Frank Grant Sr., nieces Jeanerette Jacups-Johnny, and Marlene Crumpacker-Wilder and numerous great nieces and nephews, great great nieces and nephews, great great great nephews and all those that met, knew and loved her by simply calling her Auntie.
Services are TENTATIVELY scheduled to be held at Orleans Elementary School at 1 PM on Friday December 8, 2006 followed by a community meal. Internment will be held at in Yreka at 1 PM on Saturday December 9, 2006 at Evergreen Cemetery with a community memorial and meal to follow at the Greenhorn Grange Hall on Ranch Street. For more information call the Karuk Tribal Offices.
In lieu of flowers please make donations to either the Karuk Tribe-Karuk Language Restoration Committee http://www.ncidc.org/karuk/index.html
KLRC
P.O. Box 1016
Happy Camp, CA 96039
9530) 493-1600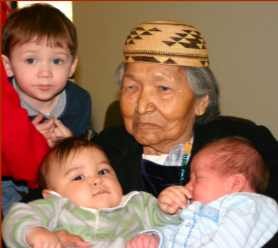 Violet "Auntie" Super with all 3 of her great, great, great nephews.
left to right: Machnatach – Little Flash of Light, Chaas – Little Brother, Ihaan – dancer