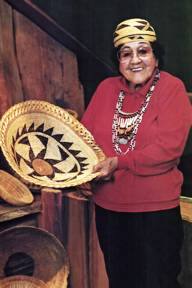 April 11, 2008 – Aaawok Aileen Figueroa – a long time resident of Westhaven and descendent of the village of Saa-athl, along the Klamath River, passed away peacefully in her home at the age of 95 from complications of pneumonia. Her family was by her side.
Aileen was one of the last fluent speakers and a Master Teacher of the Yurok language. She spent over 60 years teaching her culture to all who wanted to learn. She was also a Master basket weaver and singer of her native songs.
She was born on the Lower Klamath River in 1912 to Maggie and Henry Pilgrim, where she attended elementary school in Klamath. Later she was forced to attend the boarding school in Hoopla, which forbid students from speaking their native languages. Aileen ran away and made it to Redwood Creek where she was caught by a truant officer. She was allowed to go home to Klamath, which allowed her to preserve her culture. Aileen dedicated her life to preserving and passing on her heritage to future generations.
She spent her years working in various canneries filleting fish, picking crops in the fields, working as an assistant cook at Trinidad Elementary School, and at the smoke house in Trinidad.
Aileen learned basket making from her mother and taught weaving and gathering classes until her hands gave out. However, she was most instrumental in laying the foundation to preserve the Yurok language. She started with the encouragement and help of Jean Miller, whose husband worked for Channel 3. Then through the Center for Indian Community Development under former Director Tom Parsons, she and her late fellow linguist Frank Douglas used the International Unifon to create the first phonetic alphabet of the Yurok language. She continued in the development of a new Yurok alphabet, which is actively used in the continuation of teaching practices of the Yurok language classes today. Aileen's life was about teaching and she generously gave of her time and knowledge throughout her life, right up to the days before her passing. And in her last hours, she was singing brush dance songs.
Aileen was a well-known female singer of Yurok songs. She was famous for her love song, which has been recorded numerous times. This captivating song may have attributed to her 51-year marriage to Raymond Figueroa before becoming a widow. If you're ever put on hold when calling Potawot Village clinic or other tribes in the area, you may hear her sing her love song while you are waiting or one of her many other songs.
In addition, she was an active member in her community. She was one of the founders of the Ladies Club and Westhaven Fire Department. As a member of the Ladies Club, she actively participated in making pies for the annual Blackberry Festival in Westhaven to raise money for the Volunteer Fire Department. Ask for Aileen's pie, which has been named after her if you ever attend the festival; Aileen participated in state and national educational projects including documentaries for cultural preservation and has received numerous honors for her work in the community. Most recently, she was instrumental in organizing the Yurok Elders Wisdom Preservation Project (www.yewpp.org) and she participated at the American Indian Academy (AIA) at McKinleyville High School, which she was actively involved until her death.
Aileen was a true link to the old ways with her first hand knowledge of Yurok culture. She dedicated her life to keeping these ways alive through teaching and sharing this cultural history, language and traditions, which makes her passing a true loss to the Yurok community. Her contribution to the preservation of her culture will be greatly missed by many.
To' kee kem ney-wu-che'-mow, cho' sey-goh-e-goch-ee'mow!
Aileen is survived by her daughter Kathleen Figueroa-Vigil and husband Rodney and her grandson Dominick Figueroa and his friend Rae. Sean Vigil and child Kayla; Shelly & Jimmy Ammon and their children Jacob & Q'ay liwh; Angel & Shawn Korb and their children Darrel, Crystal, Michael, D.J. and Sarah; Danielle & Frank Masten and their daughter Emily; Rodney Vigil, Jr. and Danelle, and their children Stephen, Rodney III and David. She was preceded in death by her 9 siblings including brothers Frank, Floyd, and Albert Pilgrim, her sisters Anna Jane Boyd, Lydia Sanderson, Bell Gensaw, siblings that died at infancy, and her son Raymond Figueroa II, grandsons Raymond Figueroa III and Floyd Figueroa.
If you would like to make very much-appreciated donations to the family, you may send them to:
C/o Kathleen Vigil
788 S. Westhaven Drive
Trinidad, CA 95570
Or contact Danielle Vigil-Masten at 530-784-8118 or email at drvigil@hotmail.com
You may also contribute to the Aileen Figueroa – Jessie Exline Scholarship fund for language preservation.
Make contributions in the name of YEWPP
788 S. Westhaven Drive
Trinidad, CA 95570
The wake for Aileen will be held at the Westhaven Fire Department 446 6th Avenue, Westhaven
from 7 PM Friday evening til 7 AM Saturday morning. All singers and drummers are invited to honor her.
Funeral Services will be held on Saturday April 19, 2008, at the McKinleyville High School main gym at 1300 Murray Rd, McKinleyville, CA at 11: AM followed by her Reception at Trinidad Town Hall and Trinidad Elementary both on Trinity St. in Trinidad.
She will be buried at Trinidad Cemetery immediately after the services.
Her beloved Westhaven Volunteer Fire Department will be leading the procession from McKinleyville to Trinidad. Coincidentally their fire department is having a fundraiser at Trinidad Town Hall the same evening! Stay and join in, in her honor.
All who were blessed by her are welcome to attend and remember her amazing life.
For more information or see how you can help and participate, please contact: Lisa Sundberg-Maulson at 951-833-8888 or by email at lmaulson@aol.com or Valerie Reed at 7th Generation Fund vmr7gen@pacbell.net or by phone at 707-825-7640.
Pall Bearers
David Gensaw
Walter Lara, Sr.
Larry Hendrix
Frank Lara, Sr.
Frederick "Corky" Simms
Desmond "Merky" Oliver
Terrance D. Brown
Zackery Brown
John Provolt
Ernie Albers,