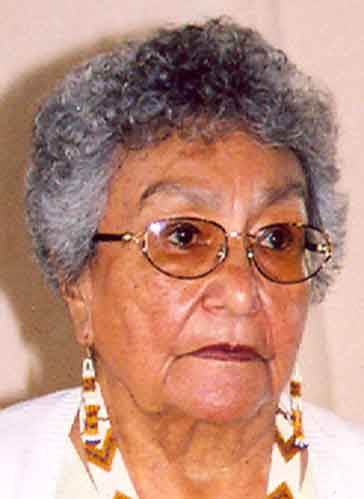 Georgiana Trull passed away on Oct. 16, 2008 at the age of 92. She was born in Sregon Village, on the Yurok Reservation to Melissa and Charlie Myers. Georgiana went to school at Pecwan, Morek, Hoopa, and Riverside Boarding School. She was a welder in San Diego, a fish filleter at Lazio's in Eureka, and for the last 40 years was a teacher of the Yurok language for the Yurok Tribe.
Georgiana is survived by the following: Her husband, Harold "John" Trull, and her son Richard and wife Debra Myers. Grandchildren Harold, Louie, Dewey, Melissa, Richard II, Charlie, Frankie, Georgiana and Virginia. Great-grandchildren Jolene, Michael, Andrew, Robert, Hunter, Lilli, Dylan, Kylie, Kayla, Preston, DJ, Lucinda, and Sofia. Great-great-grandchild Issac McCovey. Nieces and nephews Everett "Dewey" Myers, Gilbert Myers, Larry Sillaway, Louie Myers, Andrea Lavato, Everetta Myers, Barbara Rakestraw, Dwayne Myers, Raymond Myers, Roselie Snider, Barbara Green, Gail and Myran Ownbey, Roberta Smith, Lois, Cindy, Bruce, Linda, and Don Coulter, Bev, Mike, Brock and Jerry Trull.
She was preceded in death by her parents, Melissa and Charlie, brother Everett Myers, sister Jessie Myers, Aunt Queen James and nephews Frank Robbins, Joe Henderson and Jerald Coulter.
Visitation will be held Monday, Oct. 20, 2008, from 12 p.m. to 7 p.m. at Paul's Chapel in Arcata. Celebration of Life service will be held Tuesday, Oct. 21, 2008, at the Arcata Veterans Building, 14th & J streets, at 12 p.m. with Leo Canez officiating.
Casket Bearers will be Harold, Louie, Dewey, Richard, Charlie, Frankie, Nin, Gilbert Jr. Andrew, and Glenn Moore Jr. Honorary Bearers will be Glenn Moore Sr. Merky Oliver, Corky Simms, Dr. Tom Gates, George Ghatto, Frank McCovey, Tommy Wilson, Robert Kinney, Jeremy McInerney and Leroy Halbe.
Memorial Contribution may be may to the Yurok Tribe Language Program P.O. Box 1027 Klamath, Calif. 95548
Arrangements are under the care of Paul's Chapel in Arcata.